Current Affairs Quiz , 15 Jul 2019
July 17, 2019

Posted by:

DOTS ACADEMY

Category:

Quizes
1) "Kartarpur Corridor" project is built across the river
a) Ravi
b) Indus
c) Chenab
d) Jhelum
---
Answer: a
• Gurdwara Darbar Sahib, Kartarpur is located on the banks of the Ravi river in Pakistan
---
2) Which of the following events could be not due to El-Nino?
a) Flooding in South America
b) Drought in Indonesia and Australia
c) Declining fisheries
d) None of the above
---
Answer: d
• El Nino is a condition wherein the surface waters in the equatorial Pacific Ocean, off the coast of South America, become unusually warm. Its opposite condition, when it becomes unusually cold, is termed, La Nina.
---
3) Jalyukta Shivar is a programme aiming to make 5,000 villages free of water scarcity. Which among the following states launched it?
a) Maharashtra
b) Gujarat
c) Rajasthan
d) Madhya Pradesh
---
Answer: a
• Jalyukta Shivar is the flagship programme of the Maharashtra government launched in December 2014. It aims to make 5,000 villages free of water scarcity. The scheme targeted drought-prone areas by improving water conservation measures in order to make them more water sustainable. The scheme envisaged to arrest maximum run-off water, especially during the monsoon months, in village areas known to receive less rainfall, annually.
---
4) Global MPI report for 2019 was recently released by UN Development Programme (UNDP) and the Oxford Poverty and Human Development Initiative (OPHI). Which of the following is not one of the parameters used to measure the index?
a) Year of Schooling
b) School Attendance
c) Literacy rate
d) Child mortality
Answer: c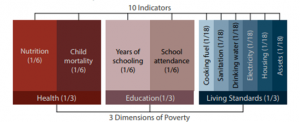 5) Mission Chandrayaan 2's lander is named
a) Vikram
b) Pragyan
c) PLANEX
d) None of the above
---
Answer: a
• It aims to explore the Moon's South polar region as the permanently shadowed region could indicate presence of water.
---