Current Affairs Quiz , 11 May 2020
May 14, 2020

Posted by:

DOTS ACADEMY

Category:

Quizes
1) Who among the following is not involved in the Battle of Haldighati?
a) Maharana Pratap
b) Akbar
c) Man Singh
d) None of the above
---
Answer: d
• It was fought between Maharana Pratap and the forces of Akbar led by Man Singh of Amber.
• Rana's forces were defeated in 6 hours. But the Mughals failed to capture him. Maharana re-gathered his forces, fought and won against the Mughals after six years in 1582. Having faced a terrible defeat, Akbar stopped his military campaigns against Mewar after the battle.
---
2) "He gave budget speeches as a member of the Imperial Legislative Council.He served as Secretary of the Deccan Education Society.He visited Ireland and arranged for Irish nationalist Alfred Webb to serve as the President of the Indian National Congress in 1894." The passage is in reference to
a) BG Tilak
b) GK Gokhale
c) DadabhaiNaoroji
d) None of the above
---
Answer: b
• PM paid tributes to Gopal Krishna Gokhale on his birth anniversary. He was born on 9 May 1866.
---
3) Shekatkar committee, recently seen in news, was constituted to reform
a) Education system
b) Military policy
c) Coal policy
d) None of the above
---
Answer: b
• Shekatkar Committee was tasked with suggesting steps to enhance combat capability of the armed forces.Union Defence Minister Shri Rajnath Singh recently approved the abolition of 9,304 posts in the military engineering services. The posts were abolished based on the recommendation of Shekatar Committee.
---
4) Wakhan Corridor of Afghanistan is not connected to
a) Pakistan
b) China
c) India
d) None of the above
---
Answer: d
•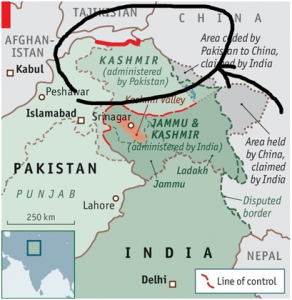 • Indian government has decided to begin weather forecasts for regions under Pakistan-occupied Kashmir (PoK) — Gilgit-Baltistan, Muzaffarabad and Mirpur.
---
5) Prime Minister's Citizen Assistance and Relief in Emergency Situations Fund, or the PM CARES Fund is administered by
a) Jointsecretary in the PMO
b) Finance secretary
c) Cabinet secretary
d) None of the above
---
Answer: d
• The Ministers of Defence, Home Affairs and Finance are ex-officio Trustees of the Fund.
---