Current Affairs Quiz , 25 May 2020
May 27, 2020

Posted by:

DOTS ACADEMY

Category:

Quizes
1) The Chinese led Belt and Road Initiative (BRI) connects
a) Asia
b) Africa
c) North America
d) Both (a) and (b)
---
Answer: d
•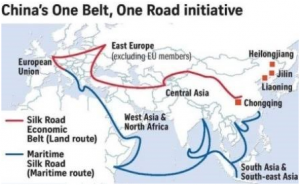 • BRI consisting of the land-based belt, 'Silk Road Economic Belt', and 'Maritime Silk Road', aims to connect the East Asian economic region with the European economic circle and runs across the continents of Asia, Europe and Africa.
---
2) Katkari, one of the 75 Particularly Vulnerable Tribal Groups, primarily belongs to the state of
a) Maharashtra
b) Rajasthan
c) Tamil Nadu
d) Karnataka
---
Answer: a
• Katkari is one of the 75 Particularly Vulnerable Tribal Groups.
• Katkaris were historically forest dwellers. They are located primarily in Raigad and in parts of Palghar, Ratnagiri and Thane districts of Maharashtra as well and in some places of Gujarat.
---
3) Which among the following states in India is the first to grant 'industry' status to sports?
a) Haryana
b) Mizoram
c) Himachal Pradesh
d) Gujarat
---
Answer: b
• Aiming to further bolster the sports activities, by attracting investment, sports have been accorded industry status in Mizoram, first state in India to do so.
---
4) Grand Ethiopian Renaissance Dam, the biggest dam in Africa once completed, is located in
a) Ethiopia
b) Sudan
c) Egypt
d) None of the above
---
Answer: a
• Formerly known as the Millennium Dam, it is under construction in the Benishangul-Gumuz region of Ethiopia, on the Blue Nile River, which is located about 40km east of Sudan.After completion, it'll be Africa's largest.
---
5) Which among the following countries are yet to sign Comprehensive Nuclear-Test-Ban Treaty (CTBT)?
a) India
b) US
c) Russia
d) All of the above
---
Answer: a
• It is the treaty banning all nuclear explosions – everywhere, by everyone.
• India, North Korea and Pakistan have not yet signed the Treaty.
• The Trump administration discussed last week whether to conduct its first nuclear test explosion since 1992.
---